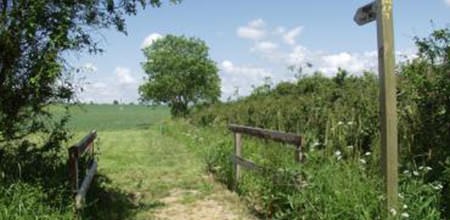 With many weeks of different levels of lockdown during the past year of the coronavirus pandemic many people and families have been looking for ways of getting out of the house and seeking some form of recreation.  Families living in the Candover Valley are fortunate in having a wide network of footpaths and bridleways where it is possible to take short, or longer walks, through beautiful countryside, even in winter and in relative safety, largely away from the rural roads which are narrow, without pavements, and mostly with a 60mph speed limit.
Walking the footpaths, even in muddy conditions, is a better bet.  Around Preston Candover there are seven local circular walks compiled in 1990 by a well known village resident, Mr Fred Osgood, the then clerk to Preston Candover and Nutley Parish Council. Details of these walks can be found here. 
A useful, and undemanding, walk takes you from the centre of Preston Candover, by the village hall and shop, along the B3046 towards Axford and Basingstoke and within the 30 mph limit, to Bradley Lane (Red Lane, C136), the first road on the right. Walk about 300 yards towards Bradley and take the left fork into Oak Hill Lane. This is a BOAT (byway open to all traffic) which was resurfaced by Hampshire County Council in 2015 and, despite the heavy rain during winter months should still be in reasonable condition.   Follow this lane until it reaches the surfaced road near to the entrance to Southwood Farm and turn left. Keep on this road towards Preston Oak Hills until you reach the back entrance to the Moundsmere Estate and turn left through the gates and follow this road, known as Damsel Lane, until you reach the lodge gates at the B3046, Basingstoke Road.  Turn left and walk back to Preston Candover.  This route is also open to cyclists as it is a combination of a BOAT and bridleways.
This walk can be shortened by taking the track on the left about 400 yards before reaching the surfaced road at Southwood.  Follow this track past the grounds of Moundsmere Manor until it reaches the surfaced driveway of Damsel Lane.  Turn left and follow this lane back to the B3046.
For those wishing to go further afield Hampshire County Council and East Hampshire Council have devised The Writers' Way, a 13-mile trail linking Alton to surrounding villages through some beautiful countryside; it is open to walkers, cyclists and horse-riders. The route uses a mixture of paths and rural lanes with generally gentle gradients, at times on age-old sunken tracks and at others on paths over open farmland or through woodland. It traces routes from Chawton to Selborne, and from Selborne to Four Marks and a link to the Watercress Line.
The Writers' Way commemorates two great Hampshire writers – Jane Austen who lived at Chawton; and the naturalist Gilbert White, who lived at Selborne.  More details, and a map to download, can be found here. 
Another 18th century writer, William Cobbett, describes in his book Rural Rides, his ride through the Candover Valley on 28 September 1822, at the age of 60. More here.