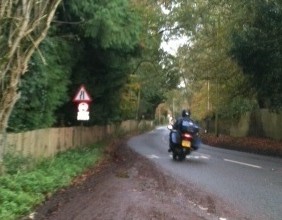 The problem of vehicles speeding through the villages of the Candover Valley is among the greatest concerns of local residents, and the parish councils have been looking at ways in which speeds can be reduced.  All attempts to introduce traffic calming measures have, so far, been frustrated by Hampshire Highways who seem to give greater importance to the fast, free movement of traffic, than to the interests and welfare of those living in rural communities.
Preston Candover Parish Council has invested in two automatic speed indication devices and erected several mounting posts alongside roads entering the village.  The ASI devices show motorists the speed at which they are approaching in the hope that they will slow down when shown they are above the 30 mph speed limit. But, regrettably, many simple ignore it and continue into the village at 40+ mph, especially those approaching from the Brown and Chilton and Wield directions.
The police claim that most of the people speeding are either local residents, or people living in Medstead, Wield, Alresford or other nearby villages who use valley roads as a shortcut to Basingstoke and the M3 and A303.  If you are one of these, please think of the children and other pedestrians who may be walking along the village roads, most of which have no footpaths. Kill your speed, not a child!