Residents of Preston Candover and neighbouring villages were greatly irritated, if not angry, at the disruption caused by the recent activities undertaken in the village by Hampshire Highways' staff, seemingly at the behest of a local resident, which caused the B3046 road to be closed for four consecutive days between 11 and 14 April.
The road was closed between 8.0 am and 4.0pm on Tuesday, 11 April, and  continued daily thereafter.  It was done with little warning and caused widespread disruption and great inconvenience to many people as this is the principal road between Alresford, and all the villages to the south, with Basingstoke, and North Hampshire Hospital and other emergency services.  Very lengthy diversions were set up requiring even heavy lorries to travel over very narrow country lanes through Bradley, Wield and Armsworth to the dismay of local residents.
Although, this work was carried out by Hampshire Highways there was no record of it on the HCC website, warning people of pending road works, nor knowledge of it within the department.  Neither the parish council, nor local residents, were informed in advance.  it is believed, to have had a significant impact on the Purefoy Arms and the Candover Valley Store, and others.
This whole situation has been raised with County Councillor, Juliet Henderson, who has not yet replied to our email.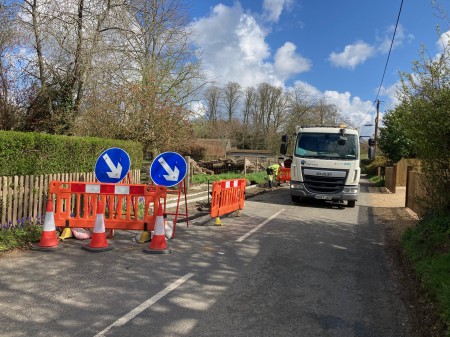 From the appearance, and conversations with those doing the work, a kerb stone was inserted outside Valley House and its neighbour to prevent rainwater from entering the properties. HCC say they do not undertake such work, such as inserting drop-kerbs, and it is not clear if the work is being funded by the county council.  Three men working for four days, cost of materials and the use of excavators, and the disposal of waste materials, will be a significant cost.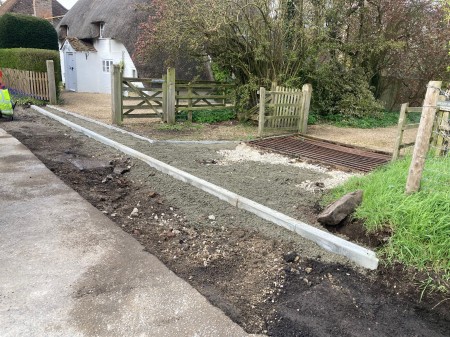 The road surfaces in the parish are in a terrible state, the B3046 at Axford is bad, and quite dangerous, and the Bradley road must be one of the worst in the county. Residents are told the County Council does not have the funds to complete proper repairs. Yet, it seems able to carry out major work of this nature.