Oak Hill Lane, the BOAT (Byway open to all traffic) which runs from the Preston end of Bradley Lane across fields to Southwood Farm, is now in relatively good condition and suitable for walkers, following the resurfacing work carried out during 2015.
Oak Hill Lane is a key part of the Winter Walk, a circular route, starting at the junction of Bradley Lane and the B3046. Walk for about 100 metres along Bradley Lane towards Bradley and then turn left onto Oak Hill Lane and follow it until it joins the surfaced road from Bradley to Ellisfield by Cannon Wood.  Follow this road in the Ellisfield direction until you reach the entrance gates to Moundsmere where you join the eastern end of Damsel Lane, a bridleway, although now surfaced, which will take you through the buildings of Moundsmere Farm and eventually between the Moundsmere lodges and back to the B3046 about a quarter mile from where you started at the Bradley Lane junction.  Of course, you can do this walk in the opposite direction. See map below.  Further information about bridleways and footpaths in the Candover Valley can be obtained by telephoning the Countryside Access Team at 01962 846981.
Route of the Winter Walk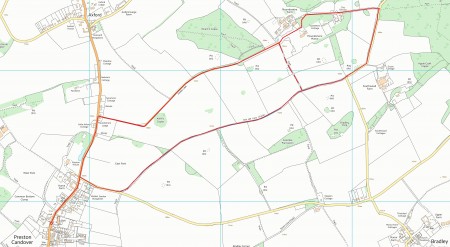 These maps are reproduced from Ordance Survey material with the permission of the Ordnance Survey under PSMA licence no. 100051989.